Sponsor
---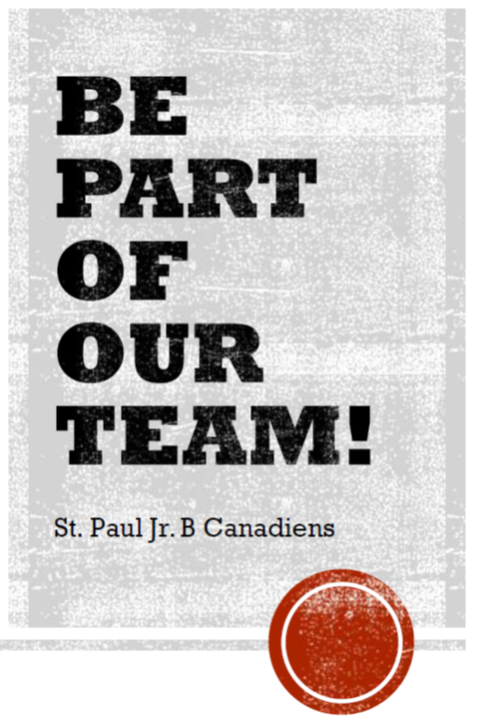 Why advertise with the Canadiens?
A strong history...
The St. Paul Jr. B Canadiens have been in existence for 65
years. We are one of the oldest Jr. clubs in Canada.

Throughout the years, we have had some great leaders,
including Clancy Richard, Patrick O'Neill and Rene deMoissac ,
just to name a few.

From generation to generation, the Habs continue to promote
the great game of hockey. We have been a stepping stone to
some very successful hockey careers along the way.

The Jr. Canadiens have also had a lot of team success
throughout the years. In the 60s and 70s, the team won eleven
league championships and five provincial titles.

In 2020, the Canadiens were rolling along to their first
championship in quite some time. Unfortunately, playoffs were
shut down as a result of the COVID 19 pandemic.

We look forward to taking the momentum of the past season and
working hard for the community of St. Paul and you our
dedicated fans in the future.
We Are Part of The Community
The Jr. Canadiens are committed to remaining engaged in the
Lakeland community.

We will do so by continuing to fundraise for local charities, volunteering
for community groups, and making special guest appearances.

Our mission is to make St. Paul the #1 place to play junior
hockey in the province.

The Habs are huge supporters of the community. Skating with
Santa, reading to pre school children, and bagging
groceries in our community are just a few of the activities we
have participated in.
How can you become a part of our team?

Becoming a partner on the corporate level
means being a part of the team. It also means
being a part of the success of the team, the
players and the coaches that may move on to
great hockey careers.

The Jr. Canadiens bring in between 8,000
to 12,000 people through the doors of the
Clancy Richard Arena, every season.

Advertising remains up throughout the entire
year, therefore, your advertising is up during
the minor hockey season, figure skating season
and Lakeland Rodeo Association finals in
September.

You may also be a part of our social media
presence in the building with every game,
every new player announcement and with
every new fundraiser.


Come and join our team. Jump on the wave of
excitement created by the 2022 play off run!
Digital Marketing Highlights:


The club regularly posts to three major
social media platforms (Facebook,
Instagram, Twitter)

2,469 total
followers as of June 26, 2020

Average Facebook post reach (organic)
last season (people that view a particular
post) was 680 people

Peak Facebook post reach last season
(views for a particular post) was 4,500
people

Posts reach a wide age demographic
Contact stpauljrb@gmail.com to get involved!